Air Compressor for Aerospace
High-pressure air compressor for Aerospace
Not PISTON
No more high noise and vibration
SCREW TYPE
Patented Two-stage single-screw compression
Not BOOSTER
No more high maintenance costs
We have more than 30 years' experience.
Typical Applications for Aerospace Air Compressor
Screw air compressors play an essential role in manufacturing and flight control functions in the aerospace industry.
Air compressors maximize performance and safety and reduce pollution.
The following are the main applications of air compressors in the aerospace field.
Aircraft Engine Manufacturing
Industrial-themed view. Repair and maintenance of aircraft engines on aircraft wings
Aircraft engineers and manufacturers use air compressors in aircraft engines as an essential part of the engine's core system.
The compressor has an air shaft where air enters the aircraft and flows through the fan.
The compressor fan raises the air pressure, increasing the air's energy potential and moving the now compressed air to the combustion chamber.
Air compression is critical for aircraft manufacturing safety testing, as aircraft engines must perform at their best during flight.
Air compression is a simulation tool used to test engine performance and durability during manufacturing.
Airport. The airplane is being serviced by the ground crew.
Ground support equipment is used to maintain and facilitate aircraft operations between flights.
Ground support teams use hammers, grinders, and welding equipment to maintain operability.
The team uses air compressors to repair aircraft functions and components and generate cabin pressure.
The air starter produces a large volume of low-pressure air to start the engine for the next flight.
The air starter unit is equipped with a gas turbine unit, air receiver, and screw compressor unit to create optimum air pressure for engine function.
The fuel injection system runs the aircraft and uses the fuel pump to flow engine fuel through the metering system, injector lines, and individual cylinders.
Fuel injection systems have no air to mix with engine fuel in the metering system; however, air compression plays a vital role in system operation.
Aircraft engineers use air compressors to deliver fuel into engine cylinders to ensure that aircraft engines operate with a steady supply of fuel on long flights.
Aircraft wing structures are tested through simulations and air compression tests.
Engineers use air compressors to test different wing components to assess their robustness, durability, and functionality.
Aircraft engineers especially need to test the durability of the slats during catapult takeoff and stationary landing.
Slats are movable control surfaces that control high-velocity airflow to high-energy air or boundary layers.
As the slat extends forward, the gap between the wing slat and the leading edge causes high-energy air to enter the boundary layer at the top of the wing.
Engineers build wings that use high-pressure engines to direct air over the surface of the slats to create boundary control air.
The cabin pressurization system was invented to ensure that crew members and passengers can breathe easily at high altitudes.
Previously, piston-powered aircraft used electric air compressors to pump outside air into the cabin to create cabin pressurization.
Today, aircraft exhaust air from engines and turbo compressors and divert the air to the cabin area to create air pressure.
Hot exhaust gas from the engine compressor and combustion chamber flows through the intercooler to become ambient air, which is further cooled by airbags and an air circulation machine.
The air compresses the process air and dissipates the heat outdoors, where it expands and cools in an expansion turbine.
The cooling air is combined with the circulating air in the cabin through a fan, and the air entering the aircraft is regulated through an automatic outflow valve to maintain cabin pressure.
Why Should We Choose Screw Type  Compressor
30~40bar  Air Compressor:  Screw VS Piston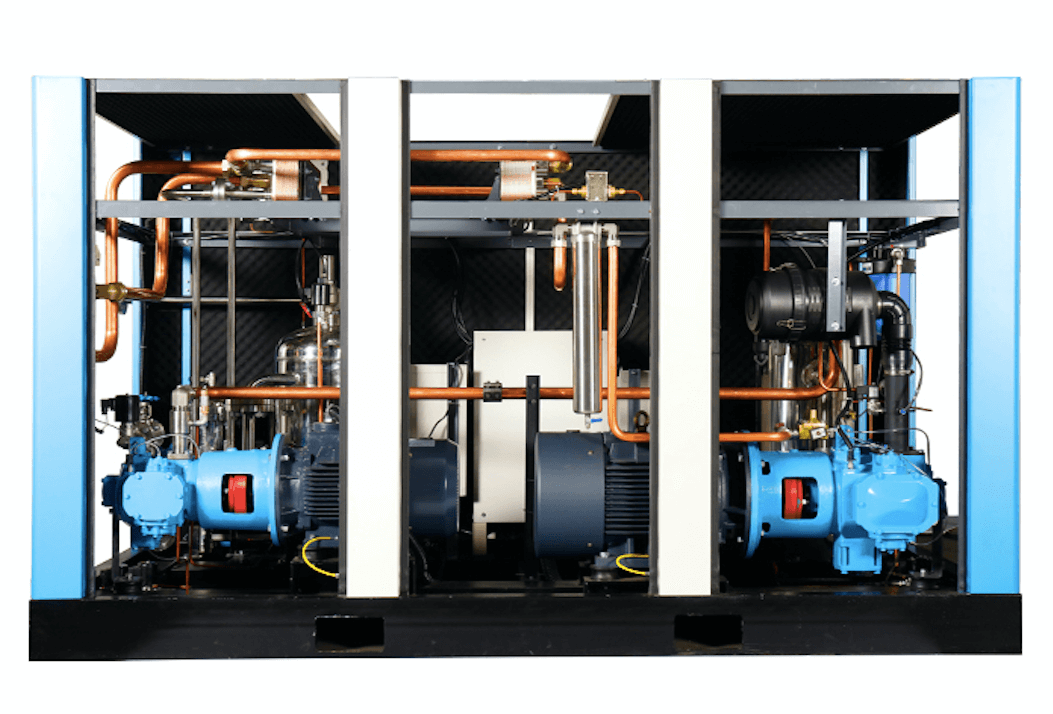 | Comparison | Oil-free Screw Air Compressor | Oil-free Piston Air Compressor   |
| --- | --- | --- |
| Air quality | 100% Oil-free | Air cylinder Oil-free, Crankcase has oil  |
| Compression Method | 2 Stage Screw | 3 Stage Piston |
| Lubricating Medium | Pure Water | None |
| Temperature | Low: < 55℃, No need for cooling | High: 125~200℃, After cooling about 60℃ |
| Cooling Method | Air Cooled or Water Cooled (Only one cooler for lubricating water) | Water Cooled (Two interstage coolers and one aftercooler for compressed air) |
| Rotate Speed | 3000 r/min Ideal Speed | 600~900 r/min Low Speed |
| Vibration and Noise | Balance and Simple structure, low vibration, and less noise | The pistons rise and fall or move back and forth, causing too much vibration and Noise |
| | | |
| Costs – Purchasing | More | Less |
| Costs – Foundation | No costs | Require foundation and grouting due to high unbalanced forces & high vibration. |
| Costs – Maintenance | Only Air filter elements and Water filter elements | High wear & tear of moving parts like piston rings, valves, etc. |
| Costs – Energy (e.g. 40bar 10m3/min) | Motor Power: 112kW (1st stage 75kW+2nd stage 37kW) | Motor Power: 132kW |
| Capacity Loss | There is no loss / very minor loss in Capacity over a period. | There is De-ration in Capacity due to wear and tear in cylinder crankcase, piston rings, pistons, and valves. |
Quality Requirements for Aerospace Air Compressor
In general, compressed air should be cleaned of contaminants before use. Common contaminants are solid particles, water vapor and moisture, and oil vapor. Mainly used for the distribution of lubricating oil, pipelines, air storage tanks, atmospheric pressure, oil-injected air compressors, etc.
When using compressed air in the aerospace industry, we must guarantee purity and cleanliness to prevent contamination. Specifically, what we should do is as follows:
Moisture is known to favor the growth of microorganisms and fungi. If there is moisture in the compressed air line, it can easily be blown onto the product, packaging or container. So we need to use a dryer to guarantee the desired dew point. Generally, the dew point of compressed air in direct contact is -40°C, and a desiccant dryer is used. Low risk non-contact compressed air has a dew point of 3°C and uses a refrigerated dryer.
There is oil in the atmosphere, so even if you choose a 100% oil-free air compressor, there is still oil vapor in the compressed air, so you should use a filter.
In general, the compressed air in direct contact must use an oil-free air compressor. Ensures Class 0 100% high purity oil-free compressed air, eliminating the health risks of rejection risks associated with oil contamination. For low risk non-contact compressed air, we can use more economical oil lubricated air compressors, but it is best to use a filter to ensure 0.003ppm oil content.
The atmosphere contains solid particles or dust that may cause contamination if in contact with the product. Other contaminants can come from the internal mechanisms of the air compressor system. We also need to use a filter to ensure that the particle content does not exceed 0.01μm.
Common Equipment for the Aerospace Applications
For compressed air in direct contact with the production line, we recommend a 100% oil-free air compressor with a desiccant air dryer, filter and food grade stainless steel.
For non-contact, low-risk compressed air for production lines, oil-lubricated air compressors with refrigerated air dryers and filters can be selected if the budget is limited. Still, in the long run, oil-free air compressors can not only be more affordable with lower maintenance and energy costs, but also produce high-quality oil-free clean air.